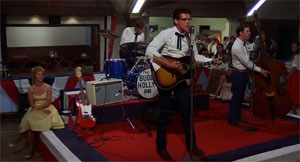 Inom rockmusiken kan Buddy Holly sälla sig till Janis Joplin, Jimi Hendrix, Jim Morrison med flera. De var alla stjärnor och pionjärer inom sin konstart vilka dog en förtidig död.
Robert Gittler har skrivit manus baserat på en biografi av John Goldrosen och Steve Rash står för regin i The Buddy Holly Story (Buddy Holly – en rocklegend, 1978). Det är en "biopic" med en del typiska inslag, som vägen till genombrottet och svårigheten att handskas med framgången som följer, hur detta sedan splittrar vänskapsband och försvårar kärleksförhållanden.
The Buddy Holly Story är dock bättre än mycket inom genren med en autentisk tidsdräkt från 1950-talet och en Gary Busey som trovärdig rockstjärna med stora glasögon. Charles Hardin Holley som var Buddy Hollys riktiga namn får sina drömmar besannade när ett skivbolag i Nashville hör av sig. Bandet The Crickets som utgörs av honom och de två bästa vännerna går först inte hem i Nashville, men efter ha prövat en ny producent får dem skivkontrakt.
Filmens musikaliska framträdanden tillåts ta tid i anspråk i filmen. Vi får höra gamla hits som "Peggy Sue" och "That'll Be The Day" innan musiken tystnar. Eller som Don MacLean sjöng i låten "American Pie" efter Buddy Hollys död: "I can't remember if I cried / when I read about his widowed bride, / but something touched me deep inside / the day the music died."
Filmens betyg: